Greenfingers Support Wetapunga Programme At Butterfly Creek
Butterfly Creek is home to the only captive-rear-and-release wetapunga programme in the world. It was opened by the Associate Minister for Conservation, Kate Wilkinson.
"The mighty wetapunga – Maori for 'god of ugly things'– has been a key part of our eco-system for millennia. The wetapunga species is usually only found on Little Barrier Island and its numbers have been modest in recent years."
Associate Minister for Conservation, Hon. Kate Wilkinson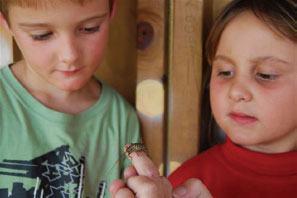 Greenfingers is helping widen the horizons of our younger generation and enable them to understand and care about our living world. Greenfingers works in partnership with Butterfly Creek and the Department of Conservation to create a sustainable programme to breed wetapunga for translocation to Little Barrier, Motuora and Tiritiri Matangi islands.
DoC granted Butterfly Creek the unique captive-rear-and-release programme for the wetapunga which is led by Paul Barrett, entomologist at Butterfly Creek, who oversees the country's only display of the mighty wetapunga.
"Since the Butterfly Creek Wetapunga Breeding Programme started, there have been numerous eggs hatched which have grown into healthy adults," says Barrett.

Greenfingers is the proud sponsor of Butterfly Creek's Wetapunga Breeding Programme and the 'Bugs About' exhibit.

Greenfingers are sponsoring the exhibit because we care about the environment and want to make these iconic Kiwi creatures accessible for all New Zealanders to see. Interestingly, the wetapunga is also one of New Zealand's earliest producers of compost!